Jeff Dirks, the chief information and technology officer of workforce augmentation firm TrueBlue, is interested in emerging technologies such as generative AI, but he chooses to trail early adopters when it comes to implementation. He describes his organization as being in the early majority, according to Everett Rogers' diffusion of innovations theory. While many IT leaders may want to be seen as being at the forefront of technology adoption, most fall in the middle of a bell curve, with innovators at one end and laggards at the other. However, there is no single correct position along the curve. It's crucial to know where your organization falls and make the most of it by establishing business-conscious processes for timing innovation.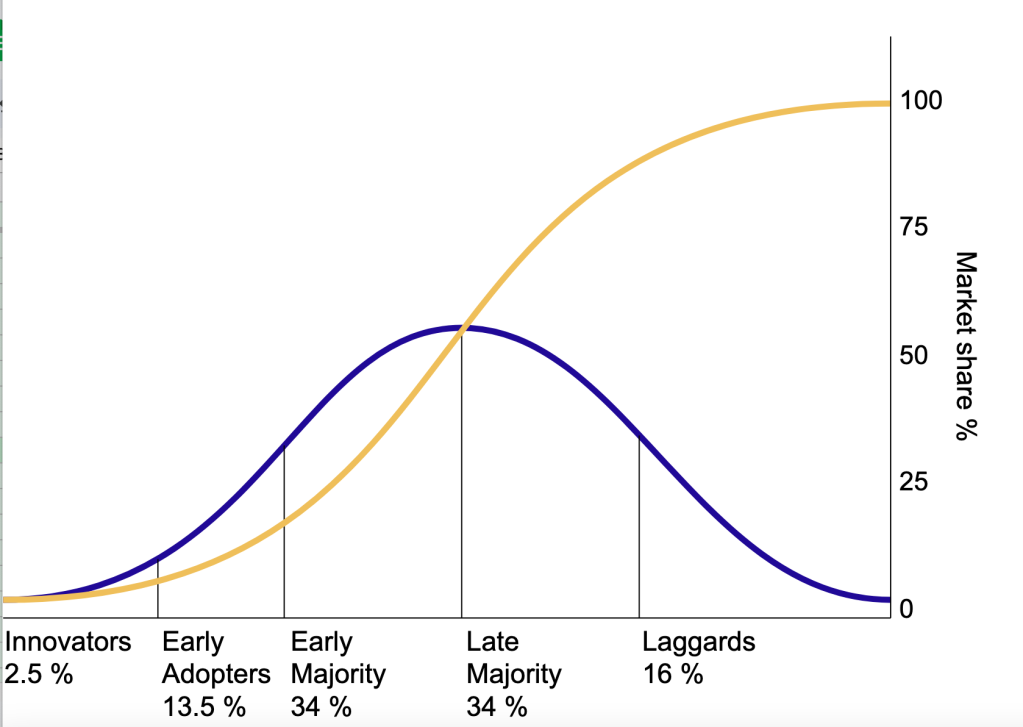 According to Brian Burke, the research vice president for technology innovation at Gartner, few organizations are willing to take the highest risk and have the potential for the highest returns by exploring new technologies and being the first in their industry. For most companies, a more practical approach is to exploit adjacency, keeping an eye on innovators in similar industries and adopting their technologies when the time is right.
Jeff Dirks, the CIO/CTO of TrueBlue, agrees with this philosophy, as his company's core business is matching day laborers with companies that have contingent labor needs. TrueBlue is evolving from brick-and-mortar to digital, calling for incremental innovation rather than radical innovation. To make recruiters more efficient, TrueBlue's award-winning Affinix app utilizes data science, machine learning, and RPA, which Dirks calls mainstream technologies.
As part of this approach, Dirks is exploring the use of blockchain technology to create a trusted ledger of contingent laborers' credentials, including facets such as drug and background checks. Although blockchain is no longer new, using it in this way would be a first in the day-labor industry, Dirks says. Dirks looks to adjacent bellwethers, such as gig-economy companies like Uber and Lyft, and venture-backed competitors such as Wonolo and Instawork, for guidance, as they are technology-first.
Institutionalizing innovation
Government agencies are typically categorized as late adopters when it comes to implementing new technologies, according to Feroz Merchhiya, CIO and CISO of the City of Glendale, Arizona. Despite this, Merchhiya believes that it's important for the public sector to innovate, rather than sticking to outdated processes. Merchhiya places the City of Glendale between the early and late majority, depending on the specific project.
Merchhiya and his team developed AZ Tax Central, a system that streamlines the collection of state sales taxes, after realizing that there were no existing off-the-shelf solutions available. The development process was successful, and Glendale is now making the system available to other cities for a nominal charge.
In an effort to continue driving innovation, Merchhiya convenes annual meetings with civic officials to learn about the issues they're facing and to brainstorm technology solutions. By engaging with the business and putting processes in place, Merchhiya hopes to avoid accidental innovation and continue driving positive change within the City of Glendale.
Tailoring innovation for real-world impact
At the District of Columbia Water and Sewer Authority (DC Water), engagement is essential in encouraging employees to suggest ideas. Thomas Kuczynski, vice president of IT at DC Water, emphasizes the importance of making employees comfortable with suggesting ideas and not being discouraged if their suggestions are not implemented. DC Water is responsible for 1,300 miles of water distribution pipe and 1,900 miles of sewer pipe. While DC Water's budget does allow for experimental work, Kuczynski says the focus is on having a positive impact on the business as soon as possible, with an emphasis on creating efficiencies and improving operations.
DC Water began using PipeSleuth, an AI-based product, to inspect the sewer system. PipeSleuth sends a drone on wheels through the system to identify pipe anomalies, tagging defects and producing a report with deep-learning neural network technology. This innovative solution has enabled DC Water to substantially reduce the cost of pipe inspections and inspect more pipes at the same cost. DC Water's event management system integrates data from SCADA, inbound calls, work orders, USGS data, rain-level gauges, and IoT inputs from sensors that track water pressure, flow, and level. The system also tracks personnel and vehicles via GPS to dispatch repair staff to trouble spots quickly. With the dispatch system, DC Water can now manage emergencies more effectively, reducing the number of work orders for a problem and consolidating them into one.
The art of selection
Ty Tastepe, the Senior Vice President and CIO of Cedar Fair Entertainment Company, which operates 13 amusement parks and resorts across the United States and Canada, notes that his company is often categorized as a "fast-follower," a position that falls between the early-adopter and early-majority groups. Tastepe explains that his company looks not only at technology implementations within their own industry but also in adjacent industries such as retail and food services. If there is no proven technology available, Cedar Fair would consider being an early adopter or piloting something new to address a business challenge.
Tastepe emphasizes the importance of identifying "must-dos" when considering new technologies and making sure they fit within budget and resource constraints. Because Cedar Fair is a public company, Tastepe thinks about delivering results and notes that new technologies must answer "yes" to at least one of three questions: Does it generate revenue? Does it improve efficiency? Does it satisfy compliance requirements?
Cedar Fair follows a discovery process and conducts a portfolio management committee discussion to evaluate the merits of initiatives that can be enabled by a technology implementation. If they decide to move forward with a project, they might conduct a proof of concept before deploying at scale. Gartner analyst Burke agrees with Tastepe that it is essential to narrow down the field of technologies to a few plausible candidates. Typically, organizations scan several hundred technologies, which must be reduced to a couple of dozen for serious study.
Knowing when to pull the plug
A company known for its innovation is Amazon.com, which invests in technology-heavy concepts like Amazon Go, a convenience store without a checkout. While Amazon has built several of these stores, it recently announced the closure of some, as well as reportedly curtailed its drone delivery initiative. However, such explorations and reversals underscore the importance of continually evaluating pilots to ensure that there is enough warranted value in going forward with the concept.
Amazon is good at testing technology and then abandoning it if it doesn't work, says Ananda Chakravarty, vice president of research for retail merchandising and marketing at IDC. According to the analyst, one reason for the Go retrenchment is that the cost of cameras dropped significantly, making them a better technology choice than the sensors that Go initially implemented to track inventory on shelves.
However, behemoths like Amazon and Walmart, which have also experimented with Scan-and-Go checkouts and delivery drones, can afford the luxury of trying—and learning from—things that others cannot, says Chakravarty. A test-and-learn approach has some real value-added, and Amazon.com initially planned to sell Go technology to other retailers. When that didn't pan out, the company decided to target Go to niche markets such as airports, stadiums, and transportation venues, where consumers place the highest value on the convenience of a frictionless experience.
Checks and balances
Rajiv Garg, an associate professor of information systems and operations management at Emory University, stresses the importance of putting together a diverse team to evaluate new technologies. The team should consist of multiple corporate departments and demographics. Garg recommends sending the team to conferences, providing them with VR headsets, and allowing them to explore various technologies freely. He notes that generative AI has advanced significantly and must be evaluated.
Garg advises engaging employees and using them in the workplace. According to Gartner's Burke, most organizations jump into pilots without conducting due diligence ahead of time. However, gaining an edge in the market depends on a company's willingness to try new technologies. Dirk from Cedar Fair emphasizes the importance of taking many swings and exploring new technologies to achieve a competitive advantage.